Light-Cure Materials Designed with
Skin Sensitivity & Proximity in Mind
The 9200-W series of next-generation light-curable encapsulants and structural and optical positioning adhesives are made without materials of concern that are known to cause skin sensitization. They are used to assemble end-user consumer electronics wearables such as fitness trackers, smartwatches, earbuds, AV/VR headsets, and other devices that come in close contact with the skin.
Formulated without IBOA
Cure with UV/Visible light
No solvents added, one-part formulations – no mixing required
Low-sensitizing ingredients
Use alone or together in one device to create a total protective solution
Customize standard formulas to meet specific application requirements
Watch this short video for more details.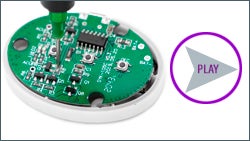 Available products include 9201-W bonding and electronic encapsulant, 9202-W optical bonding adhesive, 9210-W dual-cure encapsulant, and 9211-W low-stress plastic bonding adhesive.
---