Low-Shrinkage Active Alignment
Epoxies for Satellites & Spacecraft
Pass NASA Low Outgassing ASTM E595 Testing
Dymax 9801 and 9803 epoxies cure in seconds with UV/Visible light for superior bonding of components in optical assemblies and ruggedizing components on PCBs. The products are moisture- and thermal-cycle resistant and meet the stringent low-shrinkage requirements needed for optical applications and low outgassing for satellite and spacecraft avionics. Bond lens barrels and holders, CCD or CMOS die, and rigid PCBs, or use for active alignment.
Learn more about the low outgassing ASTM E595 standard. Download the technical bulletin.
Other product features include:
On-demand UV/Visible light curable
High Tg and low CTE for less movement during and after cure
Low-temperature heat cure (80-85°C) capability for shadow areas
One-component formulations require no mixing
Cold ship/cold storage (1-5°C)
Solvent-free, eco-friendly materials
Bond well to LCP, PCB, PPS, FPC, and metallic surfaces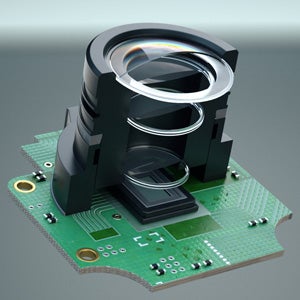 Dymax is committed to green manufacturing that reduces environmental impact, conserves energy, and provides greater worker safety, while enhancing efficiency, increasing throughput, and decreasing costs.
---