Dual-Cure 9771 Light/Moisture-Cure
Conformal Coating
Designed for satellite, spacecraft, and critical PCB assembly applications, solvent-free dual-cure 9771 is a reworkable coating that cures rapidly with light first and then with moisture to ensure material that flows underneath components on PCBs fully cures.
Assigned number 09841 in the NASA MAPTIS materials database, 9771 was verfied by a NASA-approved 3rd party lab that it meets low outgassing ASTM E595 and has low ionic content for cleaner PCBs during extreme conditions.

Curious to know where 9771 coating and other light-curable materials can be used in spacecraft and satellite applications? What this short video.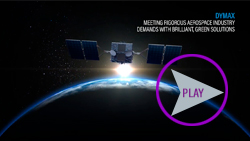 The on-demand light-cure capability of 9771 means that PCBs don't have to flash off, then go through heat cure, so boards are immediately available for the next process step. Other key features include:
Certified to meet Mil-Std 883 Method 5011
UL 94 V0 flammability rated and UL 746E recognized
Resistance to corrosion, temperature, and humidity
Coating thickness to 0.008" (0.20mm)
Bright blue fluorescing for fast, high-speed, in-line quality inspection
Eco-friendly, 100% solids, one-component material requires no mixing
Want to understand more about dual-cure light + moisture-cure technology? Download the technical bulletin.